The first device to offer browse, hold, pickup, and return of the diverse materials that libraries need and patrons want. The AutoLend™ Library can handle the widest range of popular library material types and sizes in the smallest footprint of any product available. Designed to fit a 34″ D x 41″ W space, the new AutoLend™ can fit into almost any space the library needs.
Features:
Integrates with all ILS's via SIP2
Works with Barcode and RFID
Standard 120 Volt power and RJ45 Data Line Jack
UL Rated
Powder Coated Sturdy steel construction
Hi-Res 19″ TouchScreen
Custom Screen Interaction Branding
Custom Wraps Included
ARPA Eligible
Made & Serviced in the USA
More
Digitize your collections for improved access, savings and long-term preservation. It's as easy as 1-2-3!

1: Give dusty collections new life by sharing them digitally with patrons near and far online

2: Deliver clean, crisp images to save, share or send – up to FADGI 4-star

3: Sweep up the savings in reduced staff time (searchable images), reduced on-site storage and increased online traffic

Get a clean start on the New Year and call Crowley's experienced imaging specialists today for a free consultation: (240) 215-0224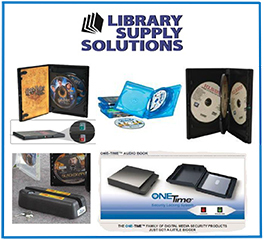 One-Time Locking DVD, CD, Blu-Ray and Audiobook Case Collection by Clear-Vu
Our prices for the very popular One-Time locking case collection are so low; you may wonder how we can do it? The answer is low overhead and a reasonable ROI or return on our investment.
Our list of repeat customers has grown steadily over the years. This is due to our reliable, competitively priced products and our emphasis on providing friendly and responsive customer service.
Contact us today for:
- Quotes
- Questions and answers
We have many happy customers would would be happy to talk with you, just ask.
We accept credit cards, POs, or we can invoice you and there's no minimum order requirements.
Our products are fully guaranteed.
Call Toll Free 844-644-5720
Mobile: Gary Sloan - 585-746-1480
Dean Eveleigh - 585-313-9030
Email: dean@libraryss.com or gary@libraryss.com
A woman walks into a library and asks, "Do you have Great Expectations?" The librarian says, "I hope to be the manager by the end of the year."
TLC was founded in 1974 with a mission to deliver outstanding and unexpected levels of service for libraries. We set ourselves apart by hiring librarians, learning from our customers, understanding and developing for library-specific workflows, and offering unrivaled customer support services.
Our easy-to-use library management systems are refined by ongoing customer collaboration. Libraries and school districts who choose TLC are more than our customers; they're our partners.
Standalone premium metadata services include: ITS•MARC, access to 63 million MARC records; eBiblioFile, full ebook records; and RDAExpress for RDA database conversion.
LibraryCall enables libraries to reach patrons without Broadband by delivering stories via telephone or online. The result of a belief that everyone needs access to good stories, LibraryCall offers Dial-A-Story and other services, in English and Spanish, which can be managed by libraries online.
The Galecia Group has been dedicated to working with libraries for decades. Our commitment is to help libraries succeed using technology tools that really make a difference.
For more information visit www.librarycall.com, and explore our customizable BookPoints platform to enhance reading programs at www.bookpoints.org.
UPCOMING LIBRARYWORKS WEBINARS
Strategic Planning: Connecting Vision and Identity to Library Value
Tuesday, December 14, 2021
2:00pm-3:00pm
Plan a Campaign to Draw People Back Into Your Libraries
Thursday, January 13, 2022
2:00pm-3:00pm
Weeding Your Collection: What Can Go Wrong?
Thursday, January 27, 2022
2:00pm-3:00pm
Making Your Press Releases More Effective
Thursday, February 3, 2022
2:00pm-3:00pm
How to Break the Rules: Offering Great Customer Service to Everyone!
Thursday, February 17, 2022
2:00pm-3:00pm

The Charleston Stack chair, by Eustis Chair, is an elegant and contemporary version of a classic schoolhouse chair that looks great in any library. This chair features simple back slats and a customizable upholstered seat. The durable construction makes it both comfortable and distinctive. This chair brings traditional elegance to any room and comes with an unmatched 20-year warranty.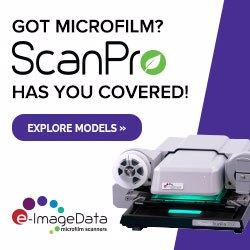 Get an All-in-one Experience With ScanPro!
Looking for an affordable way to convert your film collection for quick and easy access? e-ImageData's ScanPro® All-In-One™ is your solution! Whether you need a replacement for your old reader/printer or an affordable conversion scanner, the award-winning All-In-One has you covered! The All-In-One provides you with all of the capabilities you need to read, scan, print and digitize your entire film collection.
e-ImageData is continuously providing the latest technologies to the marketplace. Our ScanPro brand is recognized worldwide for its superior performance, reliability, and ease of use. The All-In-One features exclusive software such as live image editing, continual image focus and high-speed automatic scanning. These features and more are reasons why customers chose ScanPro as their microfilm scanner of choice worldwide.
Experience the ScanPro All-In-One! Contact us today at 1-800-251-2261 for a free demo!
Links: Follow us on social for our new release countdown. Coming Jan. 3, 2022!
Social media links: FB: @eimage.data
Twitter: @eImageData
LinkedIn: e-ImageData Corp
RFID Solutions Made for Your Library
D-Tech has a full range of affordable RFID solutions that perfectly integrate with any library environment. This unique and advanced RFID management system is the only one of its kind. The products includes, Self-service kiosks, RFID security antenna, RFID tags, AMH, tag conversion and staff circulation, RFID wand for inventory and our RFID enabled smartphone app that allows patrons to checkout RFID items in one process on their own devices.
For additional information please visit our website where a sales team member will be happy to provide further information, or contact michael.capetola@d-techinternational.com
| |